Hey Guys! Today i bring you a little review of the best serie i've ever seen, hope you enjoy it and I highly recommend you to watch it =D
He's smart, good looking, and he's got a great sense of humor. Michael C. Hall stars as Dexter, everyone's favorite serial killer. Miami forensics expert by day and murderer by night, this serial-killer killer is making the world a better place – one homicide at a time.
Is it worth your precious viewing time?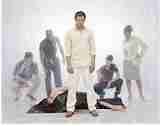 Ah, finally something completely different on the tube! Dexter is dark, strangely gripping and unlike anything I've ever seen on television. When was the last time you found yourself rooting for a murderer? Dexter Morgan is easily one of the most disturbing character's I've seen in a long time, yet I find myself anxiously waiting to see what he'll do next. His job by day is to help get the bad guys, yet I root for him to really get the bad guys at night when he delivers his own brand of vigilante justice. Will this guy ever get caught? How deep does his disturbing psyche go? What happened to him before he went to the foster home? Will he ever have a functional relationship with a woman? I for one cannot wait to see how this brilliant series will play out over the next few years. And make no mistake about it -- I believe this series will be around for a long time to come.
Starring
Michael C. Hall as Dexter Morgan
Julie Benz as Rita Bennett
Jennifer Carpenter as Debra Morgan
Lauren Vélez as Lt. Maria Laguerta
David Zayas as Angel Batista